Hotel Apartment, Geneva
The apartment – hotel Cité-Verdaine is exceptionally situated, right in the centre of Geneva's business quarter, close to the lake and just below the old town. Easily accessible by public transport, 5 minutes from the Cornavin main railway station and 10 minutes from Cointrin airport. Several underground parking facilities are located nearby.
In the heart of Geneva, you will find at walking distance well-known luxury shops, restaurants, banks, as well as historic places to be visited … Every thing to enjoy a nice stay in Geneva.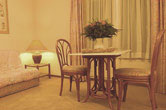 All 52 Rooms and Suites have comfortable and cozy atmosphere and are equipped with bath or shower and hair drier, direct-line telephone, cabled-television, and kitchenette. At the reception, a computer free of use allows our customer to go to internet.
Some of our studios have moreover a balcony with a table and chairs, in order to enjoy the softness of the evenings of summer...